Fall Festival Booth Fundraiser Officially 'Pays Off'
October 5-12, 2013

The Restoring Our Heritage team was excited to be out at the 2nd largest street festival in the United States once again. The fall weather was definitely more cooperative than the first year, too. We were also thrilled to be able to break even on the booth project at just the third booth event!

For the first time we also featured a new item from J&B's -- pork chops. Many of you came back, though, for J&B's great pulled pork and others still really enjoyed our homemade desert - Deep Fried Puff Balls. Thanks to everyone for the support and we hope to see you again in 2014!
---




We were excited to take the brand new booth out-of-state for the first time to the Henderson Breakfast Lion's Club's Tri-Fest in Henderson, KY for a good spring weekend of great food and fun. We made a number of new connections and rekindled old friendships while there.

We were proud to be in the hometown of J&B's Barbeque, too. People were excited to see it represented among the booths at Tri-Fest. We even introduced a new item, Puff Balls 'n Ice Cream, which a woman from France said was "the best desert she'd ever tasted".


---




The brand-new southwestern Amish-constructed booth which was finished by Restoring Our Heritage volunteers like our expert engineer and craftsman David Christmas made it to its first event successfully!

We featured food from J&B's Barbeque in Henderson and came up with our very own desert creation -- the Deep Fried Puff Ball -- were a hit! It was the first year of a full lot in the newest section right in the middle of the Fall Festival, called Alphabet Alley, and we were even featured by Ron Rhodes of Local Channel 7 for the smash hit home-grown dessert!


---



Speaker: Hon. John N. Hostettler

Former 6-term Congressman John N. Hostettler spoke to a packed audience during a Restoring Our Heritage meeting held the day after Veterans Day. He discussed the significant relationship the 14th Amendment, passed after the Civil War, impacts us still today in the operation of the modern federal government.

Congressman Hostettler's fidelity to the Constitution and his preeminent understanding of its mechanics has been generally accepted as relatively unmatched and was an asset to the American people while he served in Congress.


---



Speaker: Herbert Titus

The Fall Banquet in 2008 featured keynote speaker Herbert Titus, J.D., former Constitution Party Vice Presidential Candidate in 1996, along with the Hon. John N. Hostettler, former 6-term U.S. Representative. The theme was "Tramping the Constitution: Entitlements, Earmarks, and Electronic Surveillance".

It certainly seemed like we were ahead of our time featuring the Gadsden Flag, the Washington Cruisers Flag, the Navy Jack Flag, and others hanging fashionably for the event because the very next year the Tea Party movement sprung up in April 2009.


---



Speaker: William J. Federer

Bill Federer spoke to a very large crowd of nearly 300 people at the Old National Bancorp lobby about the importance of a strict Constitution in celebration of the Bill of Rights.

There were a number of dignitaries that attended including the Mayor of Evansville and Congressman of the 8th District.


---



Speaker: William J. Federer

Bill Federer spoke to a group at the Newburgh Central Library about his most recent book 'What Every American Needs to Know about the Quran'.


---



Speaker: Rees Lloyd

Restoring Our Heritage was pleased to feature former ACLU attorney Rees Lloyd to our 4th Annual Fall Banquet which was held on a Monday night with doors opening at 5:00pm, a VIP Session at 5:30 pm, and Dinner beginning at 6:30 pm. It was located at The Bauer Haus in Evansville, Indiana. In keeping with our theme, "God and Country Forever-Surrender to the ACLU Never!" a Former Commander of the American Legion, Rees Lloyd, spoke on the attacks by his former employer, the American Civil Liberties Union, on faithful, law-abiding Americans and veterans' memorials with everyone's tax dollars, among other topics.

Now the 21st District Commander of the American Legion, Lloyd said with the legislation that John Hostettler originally authored, PERA (Public Expression of Religion Act), they could have been able to stem the tide of the ACLU's ability to extract taxpayer funds when they sued counties and municipalities on anti-religious grounds. One Republican Senator on the Judiciary Committee, Arlen Specter, stood in the way of the legislation and Lloyd pointed out that the vote was an astounding 244-173 in the U.S. House.

Approximately 175 people attended the event, which was held at The Bauer Haus in Bauer's Grove in Evansville, Indiana. Lloyd spoke extensively on the efforts of his former employer (the ACLU) to attack faithful and law-abiding Americans and their veterans' memorials with their own tax dollars. He also noted a strong agreement with John Hostettler's intent to pass a restriction on burning the American flag as a form of "free speech."

John Hostettler also spoke briefly, mentioning his appreciation of the American Legion for standing with him on the PERA legislation. It was his opinion that it would not have been possible without them. He joked that a colleague in Congress noted that 1 member of Congress plus a 2.7 million member American Legion is a majority, in the same way we believe 1 person plus God is a majority.

We are grateful to those who contributed so much time, money, and effort to the event.


---



Speaker: Hon. John N. Hostettler

Former six term United States Congessman John Hostettler from Indiana's 8th District discussed, in what many reported as one of his more profound speeches. He talked about property rights and the importance James Madison placed on that topic within the Federalist Papers and elsewhere. The event was one of regularly scheduled bi-monthly General Meetings of Restoring Our Heritage, open to the public, in Newburgh, Indiana in the Diamond Room of the Newburgh Central Library. Approximately 50 people attended the event.

Hostettler started off his talk in giving background to the biblical theme of coveteousness, whereby individuals desire something that belongs to someone else. He quoted Exodus 20:17 "Thou shalt not covet thy neighbor's house, thou shalt not covet thy neighbor's wife, nor his man servant, nor his maidservant, nor his ox, nor his ass, nor anything that is your neighbor's." He continued saying, "Taxes come from you and from me, they come from all of us collectively who pay taxes. Now given that over 1/3 of Americans do not pay taxes, there is a particular set of individuals who pay taxes whose wealth is transferred in the government to other individuals."

He continued to strengthen the connection, saying, "Now, if you shall not covet anything that is your neighbor's -- what shall you covet -- what of your neighbor's can you claim or wish to be yours?" He qualified coveting as a subset of greed as that which deals with that which belongs to another person. This is not necessarily wanting the Mercedes at the dealership, he said, and while this may be another problem, it is not covetousness. "There is this notion of property rights and government coming in and acquiring my property -- allowing a transfer of wealth from one individual to another individual."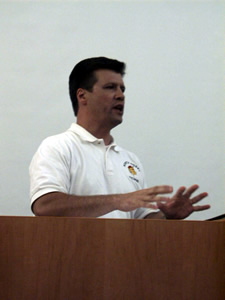 He asked what we might think this has to do with the founding of the country, answering: "During the ratification of the Constitution, three men got together and sought to argue for the ratification...in what we know today as Opinion Editorials...to allow citizens of New York to have the opportunity to see the merits of the Constitution as opposed to the Articles of Confederation. They were James Madison, Alexander Hamilton, and John Jay. James Madison is referred to as the Architect of the Constitution -- he was not a New Yorker, he was a Virginian -- but, given the profound status of James Madison in the country at that time and especially in regards to the Constitution -- Jay and Hamilton brought him in and said they would like him to sell the Constitution to their constituents. Madison started writing in what is known as the Federalist Papers in Federalist #10. "

Hostettler continued, "If you read the federalist papers, you'll understand why progressives, or some people refer to them as liberals, they'll (mention) the name of Madison, but they won't talk much about what James Madison believed. They think that James Madison was just in favor of the 'seperation of chuch and state'." By this, some believe Madison's entire purpose should be to silence Christians, but the former Congressman continued, "but if you go deeper than just an inch, and you read the Federalist Papers, you will be inundated with this: Madison believed the reason of man was fallible."

Within this Federalist #10 opinion editorial, Madison directly approached the issue of property rights by saying 'The diversity in the faculties of men, from which the rights of property originate, is not less an insuperable obstacle to a uniformity of interests. The protection of these faculties is the first object of government." Hostettler livened it up by saying, "It's like Ronald Reagan said, 'I never got a job from a poor man' -- Madison said it a little more eloquently, but Reagan was just on key."

He then brought up how this idea by Madison that the first object of government was to protect property rights was a slightly different perspective than John Jay. Jay, in an earlier Federalist Paper wrote that peace and security of its people, is the first objective of government. But, Madison saw it as a critical component -- the importance of private property -- and that government should not come in and nullify a person's deed for some other interest because the legitamite land owner bought it first.

Hostettler continued to quote Madison in Federalist #10:

"So strong is this propensity of mankind to fall into mutual animosities, that where no substantial occasion presents itself, the most frivolous and fanciful distinctions have been sufficient to kindle their unfriendly passions and excite their most violent conflicts. But the most common and durable source of factions has been the various and unequal distribution of property. From the protection of different and unequal faculties of acquiring property, the possession of different degrees and kinds of property immediately results; and from the influence of these on the sentiments and views of the respective proprietors, ensues a division of the society into different interests and parties. Hence it is that such democracies have ever been spectacles of turbulence and contention; have ever been found incompatible with personal security or the rights of property."

According to Madison, government should protect the property rights of its citizens. Government should not be involved in allowing factions to control that or lead to this wicked project of equal distribution of property.

Hostettler noted explicitly that James Madison believed that the equal division of property was a 'wicked and improper project'.

The direct phrase from Madison in Federalist #10 is below:

" A rage for paper money, for an abolition of debts, for an equal division of property, or for any other improper or wicked project , will be less apt to pervade the whole body of the Union than a particular member of it; in the same proportion as such a malady is more likely to taint a particular county or district, than an entire State." (emphasis added)

Hostettler connected property with what happens in the federal government. He asked rhetorically why we spend more than we take in. For example, prescription drugs are never paid for with current revenues. Similarly, we do the same with the war in Iraq. "There is no one projecting an end in sight to this kind of spending", he said definitively.

"So where does this bring us today?" Hostettler asked.

The former congressman noticed that an opinion editorial with the title "A Pious Nation" appeared in the USA Today by someone who specializes in religion and public life and also serves as a USA Today board member. The case is made in this article that America would truly be a more pious nation if we expanded transfer payments by the United States from those who have to those who have not.

Tying the discussion of property rights by Madison and the aspect of covetousness therein, Hostettler shows how this opinion editorial intends to incite Christians to do more by way of transfer payments within the federal government. Jokingly, Hostettler says that he also does not refer frequently in his article to James Madison. Hostettler distinctly relates this appeal to the "wicked project" that Madison stated in Federalist #10. According to the Apostle Paul in 1 Corinthians 13:3, it profits you nothing as a Christian to give all you have to the poor and have not charity or love.

Hostettler recited Matthew 6:30-33:

"If that is how God clothes the grass of the field, which is here today and tomorrow is thrown into the fire, will he not much more clothe you, O you of little faith? So do not worry, saying, 'What shall we eat?' or 'What shall we drink?' or 'What shall we wear?' For the pagans run after all these things, and your heavenly Father knows that you need them. But seek first his kingdom and his righteousness, and all these things will be given to you as well."

"If you look now at the debates in Congress, there is this notion of com passionate conservatism. If you give through various faith entities, and those faith entities like alcoholism reduction programs, drug addiction programs ... suggest that Christ has anything to do with their ultimate healing, you will have your funds taken away. You can do everything with that money except where you learned the lessons that allowed you to help in that way." He qualified that these are not just his thoughts -- they are shared by James Madison. When Madison said it was wicked to take property from others, he knew who he was talking to. He talked in a language they would understand.

Hostettler neared the end of his talk, stating eloquently:

"So as we see today, what we consider to be an erosion of our property rights, all we have to do is go back to the beginning, go back to the founding, go back to the genesis and learn from those individuals who helped to create this republic -- that gave us this form of government -- and learn from them what was meant by 'property rights' and what government was to do to protect those rights and what government was not supposed to do in order to protect those rights." (emphasis added)

Congressman Hostettler was generous enough to take questions about property rights and any other topics after the talk for nearly an hour. Many mentioned the privelege it was to attend and to hear the profound nature of the former Congressman's discussion of issues important to him and an overwhelming majority of Americans. He helped to fulfill the objective of Restoring Our Heritage -- to educate people about these issues. We thank him for his enlightening, highly informed lecture and for his service within the United States Congress that the Founding Fathers very likely would have said furthered their cause and met their mutual standards.
---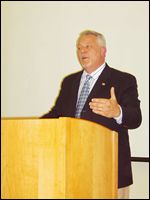 Principal Jon Abbey Discusses the 'Separation of Church and State'
April 12, 2007
Speaker: Principal Jon Abbey

The Principal of Princeton Community High School, Jon Abbey spoke at the Newburgh Central Library on the topic was the 'separation of church and state'. Abbey had researched and discussed a myriad of topics surrounding the separation of church and state and its application to schools, including: related Supreme Court cases, prayer in school, what the Constitution does or does not say about the separation of church and state, and more. When asked about the origins of the separation of church and state , Abbey says regarding the federal government, "the Founders intended only that the country would not establish state-mandated religion." The phrase separation of church and state is derived not from the Constitution as many believe, but from a letter Thomas Jefferson wrote to Baptists in Danbury, Connecticut in 1803.

Abbey discussed that court cases along with the Constitution reveal that you can pray in school, for one. Qualifying his speech, he said he speaks as an individual and not as a principal, but he said that the "original idea for no federally mandated church system has gone so far beyond the Founder's intent that we likely have harmed the country as a result." The court system has legislated many issues that have not been theirs to legislate. "The Supreme Court found that you couldn't pray in the stands at football games, but that's probably pushing beyond the Establishment Clause," he added.

One of the important elements that Abbey covered regarding his fellow educators was that "you have to have the courage to defend the Constitution." By not standing to defend it, he inferred ave encouraged many of our problems. He then talked about legal issues with schools and how the ACLU has been able to make much ground in education; he said "if you really want to know why school boards operate the way they do on this issue is because they are scared -- It's costly even if you are right." He finished his presentation by saying "if we don't support the Constitution, as educators, who will?" He referenced Thomas Jefferson as one of his favorite founders, and quoted him saying "educate and inform the whole mass of the people...they are the only sure reliance for the preservation of our liberty."
---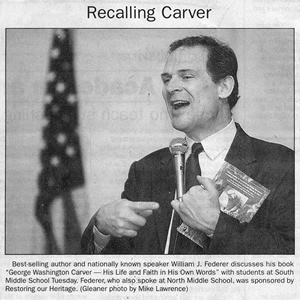 ROH Tour of Area Schools Features Bill Federer in Princeton, IN and two Henderson, KY schools
December 15, 2006
Featuring William J. Federer

On Friday, December 15, 2006, Bill Federer spoke to the students of both Princeton High School in Indiana and Henderson High School in Kentucky regarding the past, present, and future importance of the Bill of Rights in the U.S. Constitution.

One of his featured and newest books was 'George Washington Carver: His Life and Faith in His Own Words'.
---



Speakers: William J. Federer, Jim Tomes

On Saturday, December 16, 2006 at 10am, Bill Federer, author of America's God and Country: Encyclopedia of Quotations, spoke at an event to celebrate our Bill of Rights in the U.S. Constitution. It was held at the Four Freedoms Monument in downtown Evansville, Indiana as a coordinated event between the Second Amendment Patriots and Restoring Our Heritage. Approximately 100 attended the cold winter event.


---


Speaker: Larry Pratt

The Restoring Our Heritage 2006 Fall Banquet themed "In the Defense of Liberty" featured Gun Owners of America's Executive Director Larry Pratt as the keynote speaker. More than 200 attended the event held at First Christian Church in Newburgh, Indiana. Doors opened at 5:00 pm, a VIP Reception with Pratt was held at 5:30 pm and the banquet dinner began at 6:30 pm.

Pratt discussed the critical nature of firearms to the Founding Fathers in their fight against the British. Throughout the United States, there are many stories of firearms being the best security for people, as Pratt addressed, notwithstanding the fact that they are critical for people to be free from government tyranny. He also discussed Gun Owners of America's efforts in bringing attention to the police force in New Orleans confiscating firearms in the aftermath of Katrina. A federal law prohibited such action in the future due Congressmen and Senators learning of the travesty that occured there thanks primarily to the efforts of Gun Owners of America.

An award was presented to Jim Tomes and to the local 2nd Amendment Patriots for their success in lobbying the government of Indiana to ultimately pass a "Lifetime Carry Permit" for firearms. Governor Mitch Daniels proudly signed the first permit of its kind in the country and we were proud to honor the hard work of Tomes and the Patriots.


---



Featuring Dennis Newberry

Dennis Newberry, a former Texas business executive for one of the nation's largest oil companies, was gracious enough to discuss the "Father of our Nation," George Washington, at the Restoring Our Heritage General Meeting.

He mentioned the admiration of George Washington's troops had for him and even arch enemy King George of England commented that he was of "great character." He noted that Washington contributed to the cause considering his wealth. Despite such success and wealth and no requirement to serve, he still was deeply involved and even slept in tents throughout the course of the war.


---



Featuring Michael Deering

Michael Deering spoke to nearly 50 people at the Newburgh Central Library. He talked primarily about what he sees are our chief problems in the nation today, which he believes range from a mass influx of illegal immigrants (which he termed 'a Mexican insurgency') to our inability as Christians to stand up for what is right. When the country was first founded, Christianity was the focus, he explained. "Frankly we are in a do or die situation" he said, referencing a point at which the Roman empire reached and said is comparable to modern-day America.

"True freedom comes from Jesus Christ, which is what the Founding Fathers knew well," Deering said, recommending that we fulfill the Great Commission in our everyday activities. He ended the presentation a Thomas Jefferson quote: "Can the liberties of a nation be secure when we have removed their only firm foundation -- that they are a gift from God?"


---


October 25, 2005
Featuring David C. Gibbs, III

The 2nd Annual Restoring Our Heritage Fall Fundraising Banquet featured the attorney of Terri Schiavo's family and president of the Christian Law Association, David C. Gibbs, III. Over 250 people gathered at the Executive Inn in Evansville, Indiana; with doors opening at 5:00 pm, a VIP Reception with Gibbs was held at 5:30 pm, and the dinner began at 6:30 pm.

During the keynote address, Gibbs related his experience with the fight for Terri Schiavo to the status of our culture in the United States today. Gibbs spent an incredible amount of time and effort to defend the interest of the family of Terri Schiavo and what most believed was the interest of Terri herself. Many in the audience were touched emotionally by the detailed explanation of the peril of Terri Schiavo.

Gibbs also explained legally the importance of protecting life as our Founding Fathers specifically did in the Declaration of Independence and the Constitution. He warned that the precedent set by Terri Schiavo's death by dehydration and starvation might lead to a further disrespect for life around the nation.


---


February 17, 2005
Featuring Rev. Peter Marshall

The late Rev. Peter Marshall of Peter Marshall Ministries returned to the Evansville area a few months after fall banquet to speak to Evansville church congregations, including Westwood General Baptist on the west side of town.

The late Rev. Marshall would frequently ask the question "if the foundations be destroyed, what shall the righteous do??" to which he would emphatically say "good question!" Peter always had a compelling argument that we must turn back to our biblical roots if we are to avoid any further moral deterioration of our society.


---


October 11, 2004
Featuring Rev. Peter Marshall

The introductory Restoring Our Heritage fall fundraising banquet featured our originally premiered speaker from 2001, Reverend Peter Marshall. The inaugural banquet featured over 200 people interested in helping see the mission of Restoring Our Heritage pursued. A press conference was held at 4:00 pm with Rev. Marshall speaking to local media. A VIP Reception was held at 5:00 pm, doors opened at 5:30 pm and the dinner began at 6:00 pm.

Rev. Marshall discussed, among other issues, the nature of Columbus' voyage, his Christian faith, and his family history of Christian mission and purpose. There were even some reports by local media of protests outside the event due to the celebration of Columbus.


---


2003

Restoring Our Heritage board members and volunteers held prayer gatherings at two area chapels, at St. Mary's Chapel and at the University of Evansville Chapel, hoping for revival as 2 Chronicles 7:14 indicates will happen His people are on the same page. This was also an opportunity praying for our nation's, state, and local leaders .


---


October 19, 2003
with Chad Connelly

Restoring Our Heritage featured Chad Connelly at the Vincennes Knox High School and area churches as well as the Ten Commandments monument at the county courthouse. Chad Connelly had written the book 'Freedom Tide' which explores continued signs of moral degradation in our society.


---



April 5, 2003
Featuring Bill Federer and Erin Moss

Restoring Our Heritage was proud to present William Federer, Congressional candidate and nationally recognized author, and Erin Moss, Miss Michigan, to the greater Evansville Community. Both of these individuals spoke on the Christian Heritage of the United States of America. Nearly 150 people turned out at the Victory Theatre in Evansville, Indiana. The event began at 6:30 pm.

William Federer, hailing from St. Louis, Missouri, was twice a contender for Dick Gephardt's Congressional seat in St. Louis, Missouri and nationally recognized author of America's God and Country, among other select books about St. Patrick, George Washington Carver, and other influential Christian individuals who have been left out of our history books.

Erin Moss was the recent recipient of the Miss Michigan title, a presentation of the Miss America Pageant. Moss talked about the Founding Fathers, the importance of abstinence, played the flute.

In celebration of the "Supporting Our Troops" theme, the Navy Moms presented on the American Flag and its importance.


---


October 16 - 18, 2002
Featuring William J. Federer

Restoring Our Heritage presented Bill Federer to southwestern Indiana with a tour including radio stations, churches, a pastor luncheon, and a university appearance. Bill Federer wrote the best-selling "America's God and Country - Encyclopedia of Quotations," which is regularly used by many members of Congress even from the floor of Congress, scholars of American history, teachers, and students. Federer was a contender to Dick Gephardt's congressional seat in 1998 & 2000.

Many turned out for the events through the tri-state area. On October 16, 2002 Federer spoke with Dan Ravellette on WAOV 1450AM and spoke at Oasis Assembly of God in Princeton, Indiana. On October 17, 2002, he was live on WBGW 101.5FM with Floyd Turner, he spoke to Vincennes University students, and he spoke to students at the University of Southern Indiana that evening. Finishing the trip, Federer was live on WAOV 1450AM with Dan Ravellette again, he spoke with pastors at the Little Wagon in Vincennes, Indiana, and while there talked at Lighthouse Foursquare Church.


---


April 2002
Featuring Chief Justice Roy Moore

In cooperation with Rev. Don Swarthout of Christians Reviving America's Values, Restoring Our Heritage hosted Chief Justice Roy Moore, the "Ten Commandments Judge" at Christian Fellowship Church in Evansville, Indiana. Judge Moore was battling to retain the Ten Commandments Monument that was placed in the rotunda of the Alabama Courthouse. Money was raised and petitions were signed to help fight against the removal of the Monument.


---


October 19th - 21st, 2001
Featuring Rev. Peter Marshall

Restoring Our Heritage was delighted to join Rev. Peter Marshall in Vincennes, Indiana, this October for a tour around local churches. The late Rev. Marshall, a Yale and Princeton trained minister and historian, was a nationally known speaker and author. He co-authored, along with his Yale colleague David Manuel, three best-selling books including: The Light and the Glory, From Sea to Shining Sea, and Sounding Forth the Trumpet. These works help to document, through the Founding Fathers original writings, the true Christian heritage of our nation.


---



Restoring Our Heritage is grateful to have been the benefactor of the WVHI, 1st Annual Charity Golf Scramble, which took place on Monday, June 18, 2001. Over one hundred golfers came out to play and to support the ROH mission of educating Americans of our Christian heritage.

Through the efforts of WVHI radio's staff and many volunteers, Restoring Our Heritage benefited greatly from a fun and successful scramble. Congressman John Hostettler came out in support of ROH, food was provided by Anna Lee Wilson and the TLC Restaurant, and Bob Bulkley and Expressway Dodge offered a brand-new automobile as a hole-in-one prize.


---


April 20 & 21, 2001
Featuring Rev. Peter Marshall

The first ever Restoring Our Heritage event took place on the weekend of April 20 in Evansville, Indiana. Our keynote speaker was Reverend Peter Marshall, who inspired and challenged those attending. More than 1,000 attended the 7:00 pm Friday night session, nearly 350 people were present on Saturday's 3:00 pm session.

Rev. Marshall shared many fascinating stories, references, quotes, and more from the early American period. The Founding Fathers were clearly more concerned about Christianity than many people today understand. In fact, many commented positively afterward that they "had never heard this before" but were excited to learn the truth.

U.S. Congressman John Hostettler, from Indiana's 8th Congressional District, was present and spoke briefly, mentioning that Rev. Marshall was actually responsible for his run for public office. Evansville Mayor Russell Lloyd and his wife, Theresa, attended as well, and the Mayor was gracious enough to present Rev. Marshall with a key to the City of Evansville.


---


April 20, 2001
Featuring Rev. Peter Marshall

Reverend Marshall spoke to a packed house of over 100 pastors and clergy at Outback Steakhouse in Evansville, IN for our first ever event, a pastor luncheon. With co-author David Manuel, Rev. Marshall wrote three widely-popular books on America's Christian heritage: The Light and the Glory, From Sea to Shining Sea, and Sounding Forth the Trumpet. He encouraged pastors to continue to work together and highlighted our area as promising considering the comradery among the clergy that he witnessed.