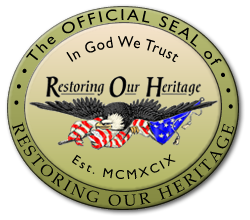 Grassroots - Restoring Our Heritage, Inc., operating as Restoring Our Heritage, is a not-for-profit, 501(c)3 organization based in Evansville, Indiana.

Our Mission is to Educate Americans of the Founding Christian Influence and Heritage of the United States of America through Grassroots Efforts.

Our Vision is to provide avenues of education for the populace for the purpose better understanding our Christian Heritage. We do this by providing events featuring recognized speakers who have expertise with related topics, by distributing printed materials and resources consistent with our message, by maintaining an informative and educational dynamic and interactive website, procuring outreach efforts to public institutions and public officials, and by participating in community events and activities whereby we can interact with the public.

We are just ordinary Americans like you who see a desperate and urgent need for our country to return to a God-fearing nation, which made us the most prosperous one ever seen. Our sincere desire is to see that a more vibrant understanding of our nation's solid foundation one day returns to our fellow Americans.